We create new flavours, inheriting traditional techniques.
Since our founding in 1912, we have continued to protect our traditional techniques, and to open new possibilities for coming eras through continued research.
Our main flavourings are food flavourings that we add to beverages, jellies, and confectionery, and other delicious foods.
Our sales staff accurately grasps the flavours and images of flavourings that our customers are looking for, while our development staff utilize those images to create items that closely resemble the final product and propose them to our customers.
Furthermore, we implement manufacture, quality control and ship based on the fundamental principles of security and safety and reliably delivery of our products to our customers.
Sales Department
Reading recent flavouring trends and creating new trends.
Our sales department is constantly checking the latest market research, styles, and industry research trends to create future food trends. They visits food and beverage manufacturers, and provide ideas for new products and samples of flavourings needed for new product development. Also, they provide feedback regarding our customers' requests immediately to our Development Department, and respond quickly, such as by re-proposing ideas along the lines of our customers' requirements.
Our Sales Department works hard to respond to our customers in a timely manner with cheer and a smile. Their motto is always to assist our customers to develop their products in any way they can.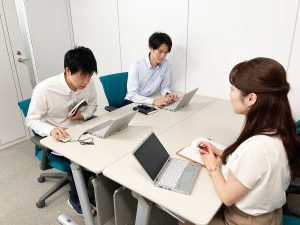 Development Department
Approaching flavourings to attain new flavours.
Food flavours are essential to make tasty processed foods. Our Development Department takes a variety of approaches toward pursuing delicious flavours. Furthermore, they work hand-in-hand with our Sales Department to develop flavourings to meet our customer needs. Our Development Department is divided into two offices. Specifically, they are our Sanda Factory Development Department and our Tokyo Development Center. Each of these is divided into three other, smaller groups. We employ a lot of young people there, so our Development Department is full of eager employees who have flexible sensitivities and great enthusiasm to investigate unknown fields. With the opening of our Tokyo Development Center, we were able to create an environment that can implement product development at greater speeds.
Our staff works hard to improve customer satisfaction by flexibly responding to our customers' requirements.
The Flavouring Group
Our Flavouring Group create flavourings utilizing a variety of raw materials in order to satisfy the many and diverse flavour requirements. They use the results from research cultivated over our long history to implement quick and timely flavouring development. Our flavourist utilizes their own unique sensitivities to create flavours that can actually be sense, and carefully creates each flavour type that is tailored to the customer's product concept in the form of a flavour.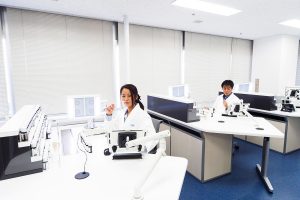 The Application Group
This group is charged with the important tasks of producing prototypes of foods and beverages that are identical to the commercial product. They actually add flavours, and evaluate them, and study matching flavourings with other ingredients. When consulting with our customers, they will create an application (a sample of a food or beverage) that allows our customer actually to confirm and to evaluate the flavour of the flavouring. Furthermore, they work with our customers to create flavours while having them evaluate the application and identifying any particular problems they may detect. They will create a prototype of a food or beverage product that closely resembles the actual product that they have requested, even when proposing only flavouring samples, and will select the flavouring samples that best match their request from that lineup.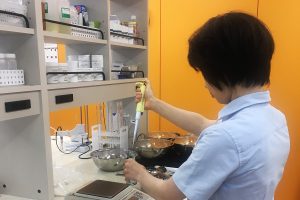 The Basic Development Group
Our Basic Development Group uses analytical instruments to analyze flavouring and flavour components of natural products, such as actual foods and fruit. This Group builds a foundation for the development of flavourings that are natural and that have volume. Also, this Group explores materials and new technologies that have an effect on flavourings to develop flavourings together with our Flavouring Group. This Group also actively participates in academic societies and the like where they often will present their research results.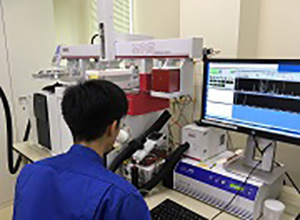 Quality Management Department
Delivering security and safety to our customers.
We implement total control from confirming our raw materials from the development stage, to manufacturing, inspection and shipment in order to provide our customers with the quality that satisfies their security and safety requirements.
Our Food Safety Team forms the core of our company-wide organizational activities in which not only our Quality Control and Manufacturing Departments participate, but also our Sales and Development Departments take active roles.
This Department is charged with implementing quality checks of our raw materials and products using analytical instruments and sensory tests, including gas chromatography and FT-IR and others.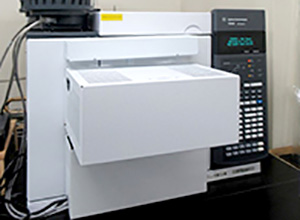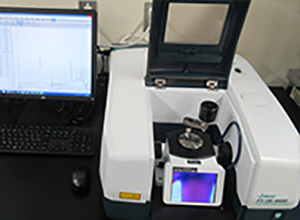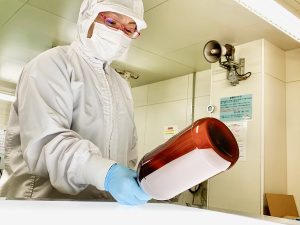 Manufacturing Department
Safe and secure flavour production.
This Department is capable of manufacturing our own, unique flavourings through techniques including distillation and extraction and the like.
Our staff there is capable of flexibly supporting small quantity, large variety to mass production using our systematized manufacturing factory that centrally controls orders, production, and shipments.
Manufacturing Process
1. Raw Material Processing
We create flavourings unique to the Japanese flavour industry by distilling and processing raw materials obtained from around the world.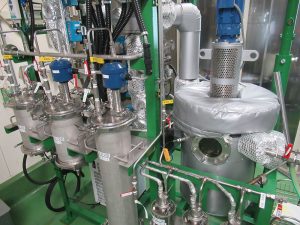 2. Manufacturing
We have a full line-up of manufacturing equipment that can satisfy every requirement our customers may have. We formulate the desired flavouring after implementing delicate formulation processes.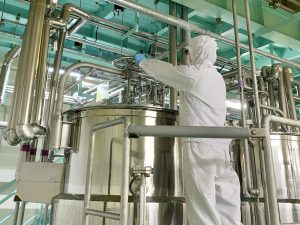 3. Quality Inspection
We closely check each product using a variety of analytical instruments and sensory tests.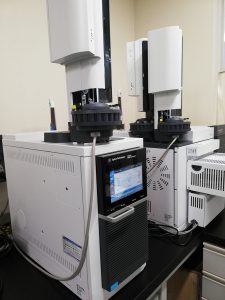 4. Shipment
Our finished products are stored and controlled at a constant-temperature warehouse before being shipped with great care for delivery at our customers' designated delivery time.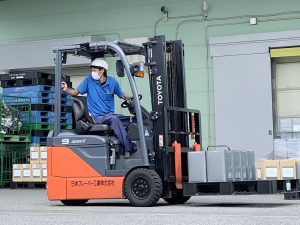 Overseas Department
Global Power Accelerates The Ability to Create Higher Quality Flavours
Our company also maintains branches in other countries to provide high-quality flavours.
We operate an ISO 9000 certified factory and have a sales force that can respond to development capabilities and customer requirements.
M.N.C. (Wuxi) Co., Ltd.
Located in an industrial park in Wuxi City, 120 km northwest of Shanghai. There are many international companies located there, including many Japanese companies.
This factory offers us with enough flexibility to accommodate a wide variety of customer requirements, from small quantity, large variety to mass production. ISO 9000 Certified Factory.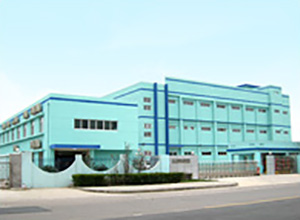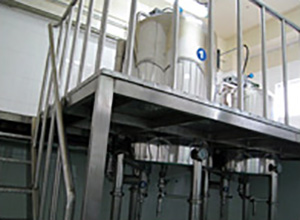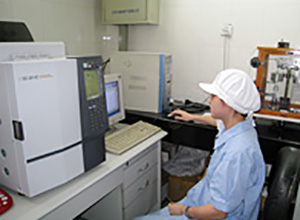 Development Center/Sales Department
Located in Shanghai, here, they implement the latest product development combining both our Development and Sales people quickly to satisfy our customers' needs.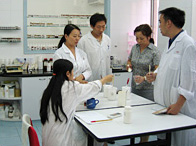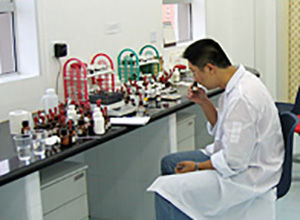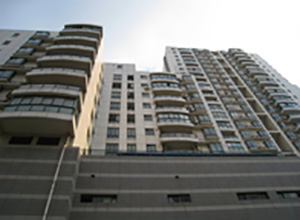 W.F.I (H.K.) LTD.
Located in Kowloon, Hong Kong and serves as the overseas distribution base for the Nippon Flavour Kogyo Group.