Creating Flavours of the Future.
100th Anniversary of the Company's Founding
Nippon Flavour Kogyo has worked with flavours for 100 years.
Each person who works here desires to create flavours for the future.
We look forward to working together with people who will create flavours of the future for the next 100 years.

Requirements
We are not currently recruiting.
Staff Opinions
Sales Department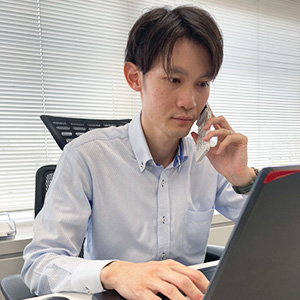 Department: Sales Department
Joined: 2012
Flavours that you can't see. So how do you propose something like that.
I learned about perfumes while I was looking for employment. I wanted to get involved with the flavouring industry because I felt that flavourings were used in many foods and were essential to our daily diet. My job is to propose flavourings to food manufacturers as a part of our sales department and to move forward with the business negotiations.
It is essential that I collaborate with other departments to create and deliver the kinds of flavourings my customers need. To select a flavouring to propose to my customer, I am in touch with the Development Department. To determine the quantity to manufacturing and the production schedule, I work with the people at the Manufacturing Department, and to discuss raw materials, such as their price fluctuations and the like, I work with the Purchasing Department. I feel that it is important to communicate closely not only with my customers, but also with the various departments within our company. The difficulty of this job. The difficulty is that a "flavouring" cannot be seen, so how am I supposed to propose it to my customer? Even if the flavouring is the same, the way it feels and the way you express it will vary from person to person. If you incorrectly perceive it, you may end up proposing one that differs from what the customer is looking. To avoid such a situation, we propose a list of keywords, and hold hearings so that we can have a common sense of the flavourings.
Our company has over 100 years of history. In such a company with this kind of history, I want to continue to aim to attain sales that can satisfy my customers' demands.
Development Department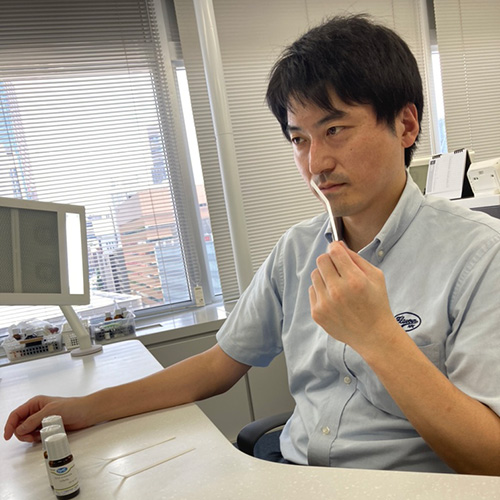 Department: Tokyo Development Center
Joined: 2014
My job is to create flavourings that have never existed before. That's what I find to be interesting about working in the Development Department.
Originally, I was interested in developing flavourings, so I joined the company as a new graduate and luckily, I was assigned to the Development Department. Today, my focus is on designing flavourings. I create flavourings that can solve the problems that our customers face and to suit a variety of conditions.
Soon after joining the company, I had manufacturing experience in the field in training. I learned about the difficulties people face at manufacturing, which I would not have understood simply by working only in development. I became aware that I had to develop flavourings that were slightly easier to manufacture.
The important thing to remember in my work is accurately to read for what scent the customer is looking. If my perception is off, the customer will not adopt it no matter how good the flavouring may be. I also develop products keeping quality, safety, cost, and manufacturing processes in mind.
The interesting thing about working in the Development Department is that I can create flavourings that have never existed before. The processes involved in creating flavourings based on your own sensitivities and experience are very difficult, but the sense of accomplishment I feel once I have created a scent I had imagined is very great. My goal is to continue to encourage myself to gain greater knowledge and to obtain technical training. I also want to become a flavourist that will help to solve my customers' problems.
Quality Control Department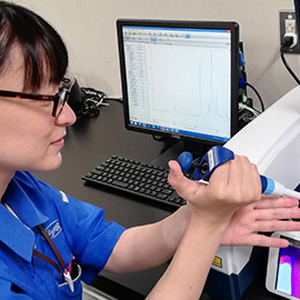 Department: Quality Control Department
Joined: 2013
"The Last Bastion" I have a strong sense of responsibility and accomplishment.
After I was hired at our company as a new graduate, I was assigned to the Development Department. Today, I have been assigned to work in the Quality Control Department. Originally, I wanted to do work related to food safety. While I was looking for employment, I began to feel attracted to perfumes that show various expressions, depending on their concentration and combination. Through interviews and internships, I felt that this was a company that valued their employees and so I strongly wanted to join this company. The actual workplace is also very easy to work in, and it is easy to talk to my manager and the other people in my department.
Today, I am responsible for quality control. My job is to ensure that the products manufactured at our factory satisfy specifications, and to confirm that they are products that can use the raw materials. We consider this job to be the last bastion before our product is shipped. That's why I tend to do my work with a sense of tension. I do not want to miss any defective products. Also, quality control is one part of the process from manufacturing to delivery to our customer. We mustn't make downstream processes wait, so I tend to think that speed is just as important as precision.
It is my responsibility to send the product to the customer. I think my job gives me a sense of achievement. In the future, I want to learn more about manufacturing and to be able to offer my own solutions whenever trouble arises.
Manufacturing Department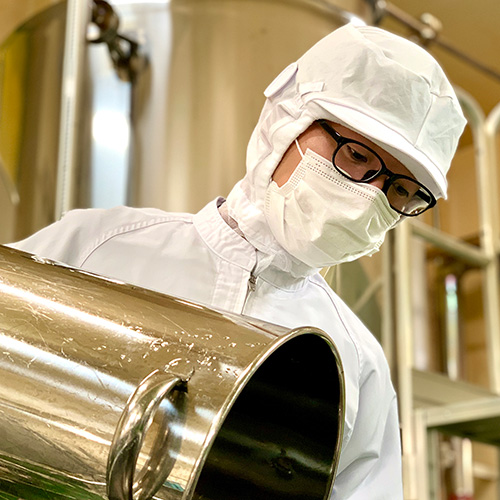 Department: Manufacturing Department
Joined: 2018
Attaining ease of work through improvements and streamlining.
Previously, I worked at a beverage manufacturing company. I joined our company mid-career. Because I used flavourings at my previous job, I was originally interested in flavourings and how they have a big impact on the product even when used in small quantities. Today, I work at the Manufacturing Division and I am responsible for concentrating citrus oil, extracting flavouring components from fruit skins, and blending.
The thing I paid closest attention to is always to think about what I can improve. I created manuals for work that is difficult to understand, so that other workers can understand it and implement the work more easily. The company environment encourages internal communication so if we have something in our work we want to improve, we can quickly offer suggestions. Also, even if I or any of my colleagues have any concerns or questions, the working environment allows us to consult with our supervisor immediately, so we can continue our work with a sense of confidence.
Previously, when I went to the safety and health lecture, I learned about the causes of mistakes and countermeasures taken at the manufacturing site. Until then, we had run a safety and health committee internally, but I think that changed my perspective to look at the site. In the future, I want to continue to make improvements and to streamline my work. I want to take on new tasks and to be able to see jobs in the manufacturing division from a broader perspective.